Comfort mask
Especially for those who are healthy.
Has a double purpose:
1. it prevents you from touching your own nose or mouth and
2. in case you do cough, it protects the people around you.
!!! To place your personalized order please follow the steps below !!!
Personalize
The mouth masks can also be personalised.
If it will be a necessity to wear them in certain situations, we want to make it fun by printing all kinds of prints on them.
This can be in the corporate identity of the company, but also nice texts and all kinds of drawings are possible.
Colour: Optional (from certain minimum pantone colour of your choice)
Function: Personal protection against harmful external influences
Characteristics: Breathable and comfortable
Material: 100% polyester - 205 gr/m²
Washable at 90° (sterile)
Reusable (more than 30 times)
Double layered
Digitally printed
Oeko-Tex Standard 100 (product class 2)
One size

Size: 27.6 cm x 14.6 cm 
Net weight: between 16 and 20 gr.
Application: Shops, restaurants, public transport, working environment...
For: Adults
HOW DO YOU PROCEED TO PASS ON YOUR PERSONALIZED MASK?
Follow the next steps:
1. Download the right template here. 
2. Open the file in a formatting program and create the design in a separate layer. 
3. You should take the following points into account: 
- embed all logos and photos
- create the design in CMYK color mode.
- image format at minus 85dpi, template is on a 1:1 scale. 
- convert all letter contours, so you can't have fonts that jump.
4. The last step is to remove the layer the template is on and save the file in PDF format.

5. UPLOAD YOUR FILE/PRINT HERE
Delivery time: 14 working days
Minimum order: 100 pieces
Prices per print run:
100 - 249 pcs = 6.9€/mask
250 - 499 pcs = 5.45€/mask
500 - 999 pcs = 5€/mask
1000 - 2499 pcs = 4.71€/mask
2500 - 9999 pcs = 4.36€/mask
> 10000 pcs = 3.66€/mask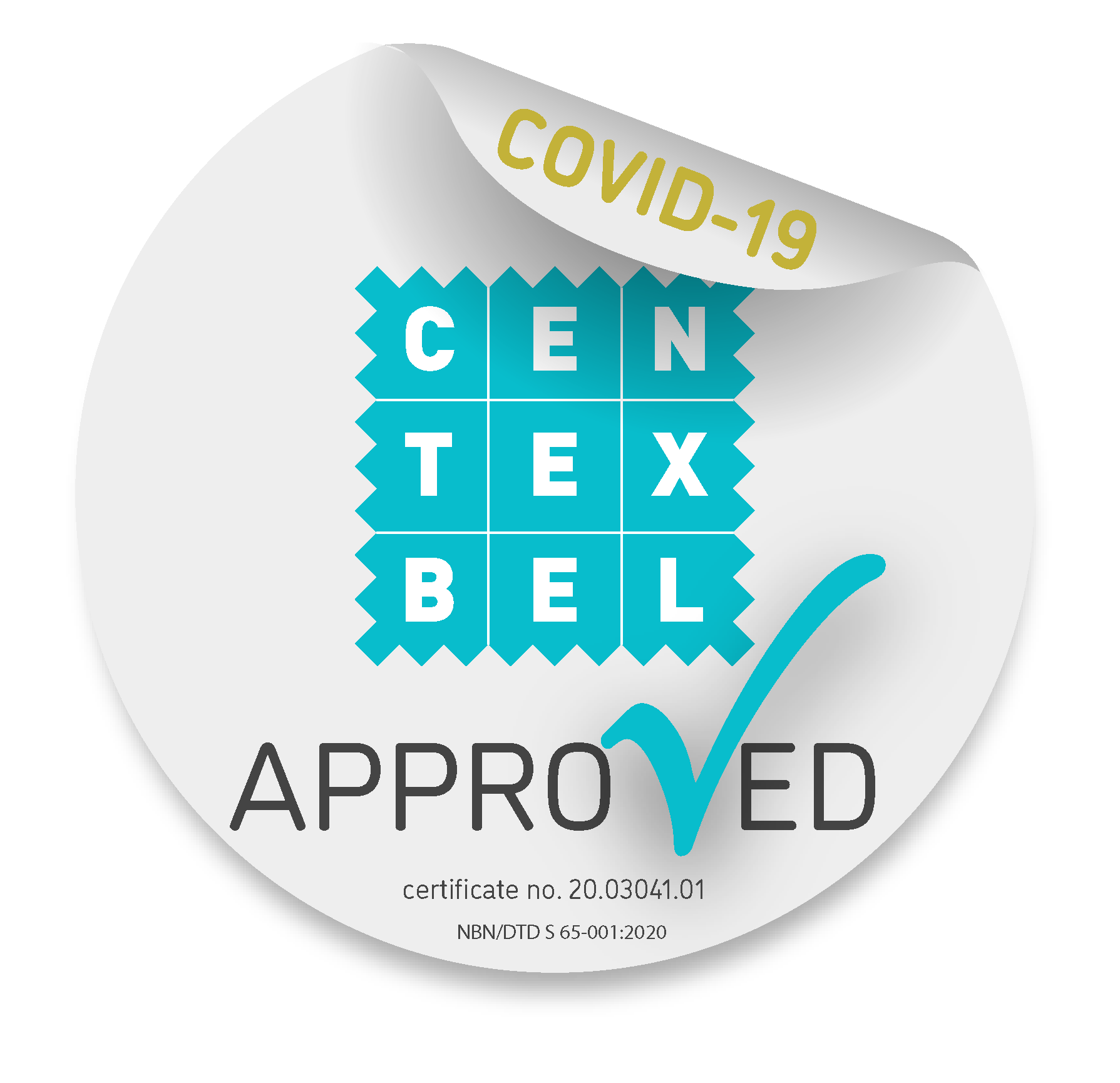 Our comfort masks have been officially tested and approved by centexbel (the official government lab)